Supporting Multiple PowerShell Versions
Details

Written by David Corrales
Last Updated: 09 October 2019
Created: 25 March 2015
Hits: 9869
As you may know both PowerShell Studio and PrimalScript support multiple versions of Windows PowerShell and allow you to switch between versions depending on what versions of PowerShell are installed.
Supported Windows PowerShell Versions:
V2, V3, V4
Note: V5 will be officially supported after its release. We do not offer support for preview versions.
Side by Side Installations:
Windows PowerShell V2 is the only version that can be installed side by side with the newer versions of Windows PowerShell.
After Windows PowerShell V3 each new version replaces the previous iterations.
Note on Packaging Platforms:
When working with our Script Packager, you will notice that there is no option listed for V4 that is because the V3 Platform engines also works with V4. Therefore if you are ever in doubt, choose the V3 option.
Note on RegisterControls.exe:
When installing a new version of Windows PowerShell (see the related article below) you have to run the RegisterControls.exe.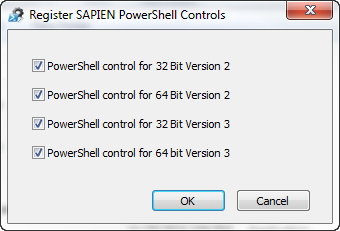 The version 3 options also applies to Windows PowerShell V4.
Related Articles:
How to Enable and Disable PowerShell V2 on Windows 8
What to do when you install a new version of PowerShell?
David Corrales is Senior Software Engineer at SAPIEN Technologies, Inc. Follow him on Twitter at @SAPIENDavid.