Forum Feature: Upvoting
Details

Written by June Reif
Last Updated: 14 October 2022
Created: 19 October 2020
Hits: 616
This article covers the Upvoting feature for our Support Forums.
To upvote a post, click the 'Thumbs Up' button in the row of post buttons in the upper-right of the post's box.

After you confirm your action, the post will reflect the upvote information.

You can remove your vote by clicking the 'Thumbs Down' button in the row of post buttons.
When viewing a list of forum topics, topics with upvoted posts are clearly marked.

The new feature also keeps a tally of both the number of upvotes made by a user and the number of times a user's posts have been upvoted.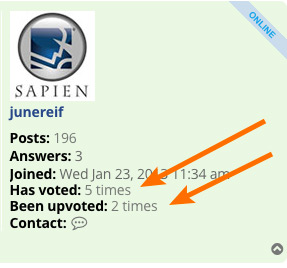 The Vote List in your user profile displays the number of votes you have made and the votes you have been given. You can easily view any of the posts by clicking the link after the user's name.

We hope you enjoy this new forum feature!