SAPIEN Software Activation / Deactivation FAQ
Details

Written by Lanae Dale
Last Updated: 10 December 2019
Created: 26 June 2015
Hits: 13750
With our latest application releases, deactivating your activation key has never been easier. Per our company EULA, each single-user activation key is entitled to a maximum of two devices to be activated and operating at any given time. You may deactivate your devices to free up your activations at your own leisure, but there are also certain circumstances where proper deactivation is crucial in order to prevent the loss of your allotted two activations. Please take note: Uninstalling the software from your device does NOT deactivate the activation key.
So let's address a few frequently asked questions:

How do I deactivate my activation key from the machine?
Open your product. In the top right corner you will see the following gold-like certificate: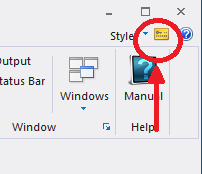 Once you have clicked on this, the following Activation Information box will appear:

This will autofill the text fields and display your Username and activation key. Click Deactivate.

When do I need to use this deactivation method?
Prior to any device upgrades and/or prior to re-imaging and renaming your hard drive. We also recommend deactivating prior to performing any maintenance that could result in a hardware crash.

How will I know if both of my activations are currently taken?
You can now check your activation count directly on your Registered Products Page.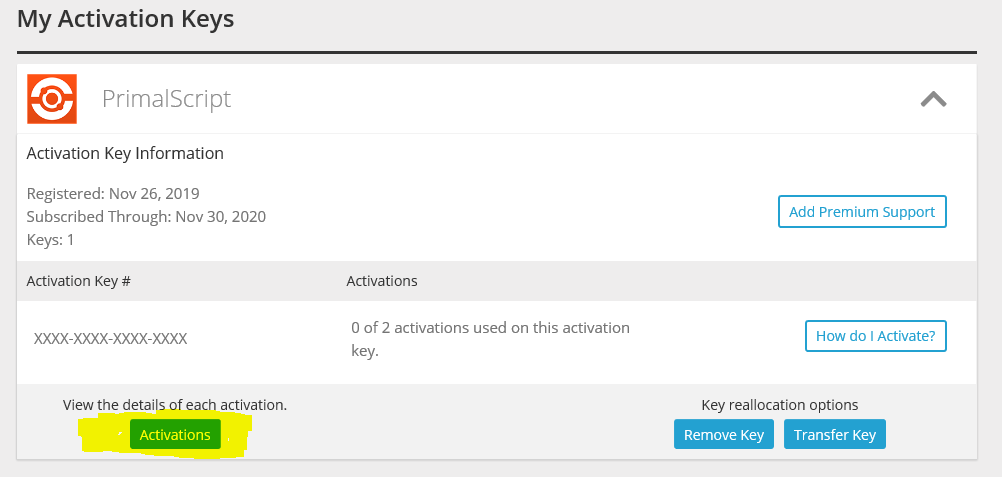 Clicking Activations will display the following module.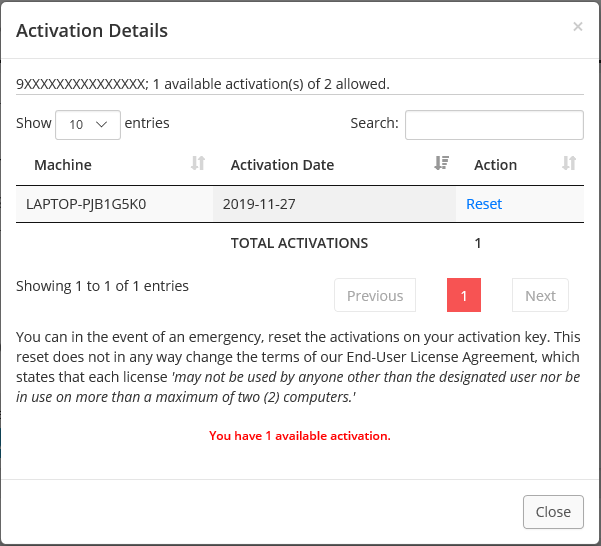 This may also say:
· 0 available activation(s) of 2 allowed
OR
· 2 available activation(s) of 2 allowed
Also, a sure giveaway that both of your activations are currently in use is if you attempt to activate a new device and receive the following error message:


What happens if my computer crashes and I am unable to deactivate my activation?
If you have experienced more than one hard drive crash within the same year, you will need to send your activation key and a description of what occurred to This email address is being protected from spambots. You need JavaScript enabled to view it..
Upon navigating to your Registered Products Page, click on "Activation Details".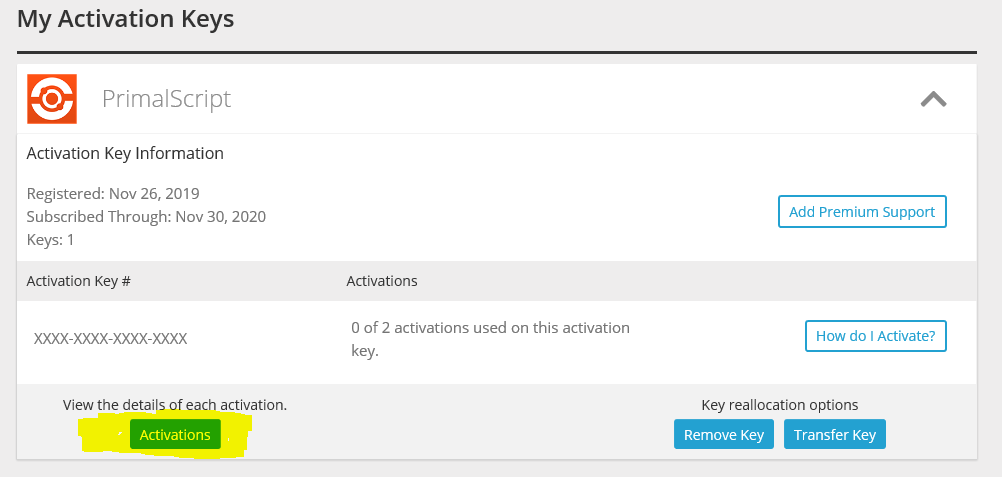 Once you have clicked on this option, you will see something very similar to the following:

Activation Date

The latest date each unique machine was activated

Total Activations


How many total machines have used an activation

Machine


The machine's unique identifier
Underneath this information box, you will see the following message
If you are currently only using 1 of the allotted 2 activations, you will not have the option to reset at this time. Proceed with using the second of your two available activations:

I unregistered my activation key on your web site and am still receiving the error message that states I have reached my activation limit.
The unregister feature on the account page on our site allows you to transfer the activation key to another person. It does not remove any activation key data from your computers.

The computers I need to install your software on are not connected to the internet. How can I activate them?
Navigate to your SAPIEN account page (https://www.sapien.com/account/products) and click on "Request Offline Activation" under the header 'Account Tools'.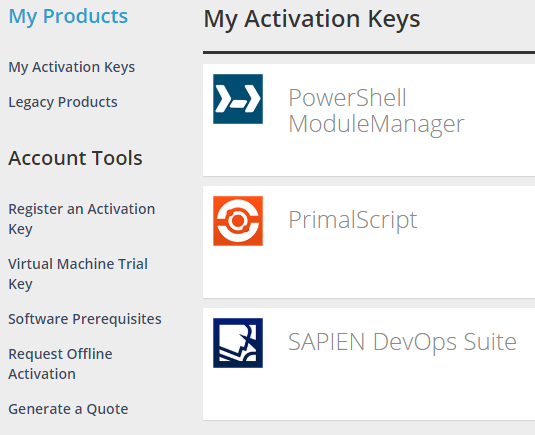 The following page reveals the Offline Activation File Request Form. Fill out the form, be sure to leave a detailed description as to why you require an Offline Activation File. Customer support will generally review the request within 24 hours. Once a request is accepted, an Actvation File will be sent via email.
Generally this option is reserved for long time customers, larger corporations and government agencies with a proven key management infrastructure in place. If we determine that offline activation keys are used to install our software on more than the allowed two machines per key, your key may be revoked.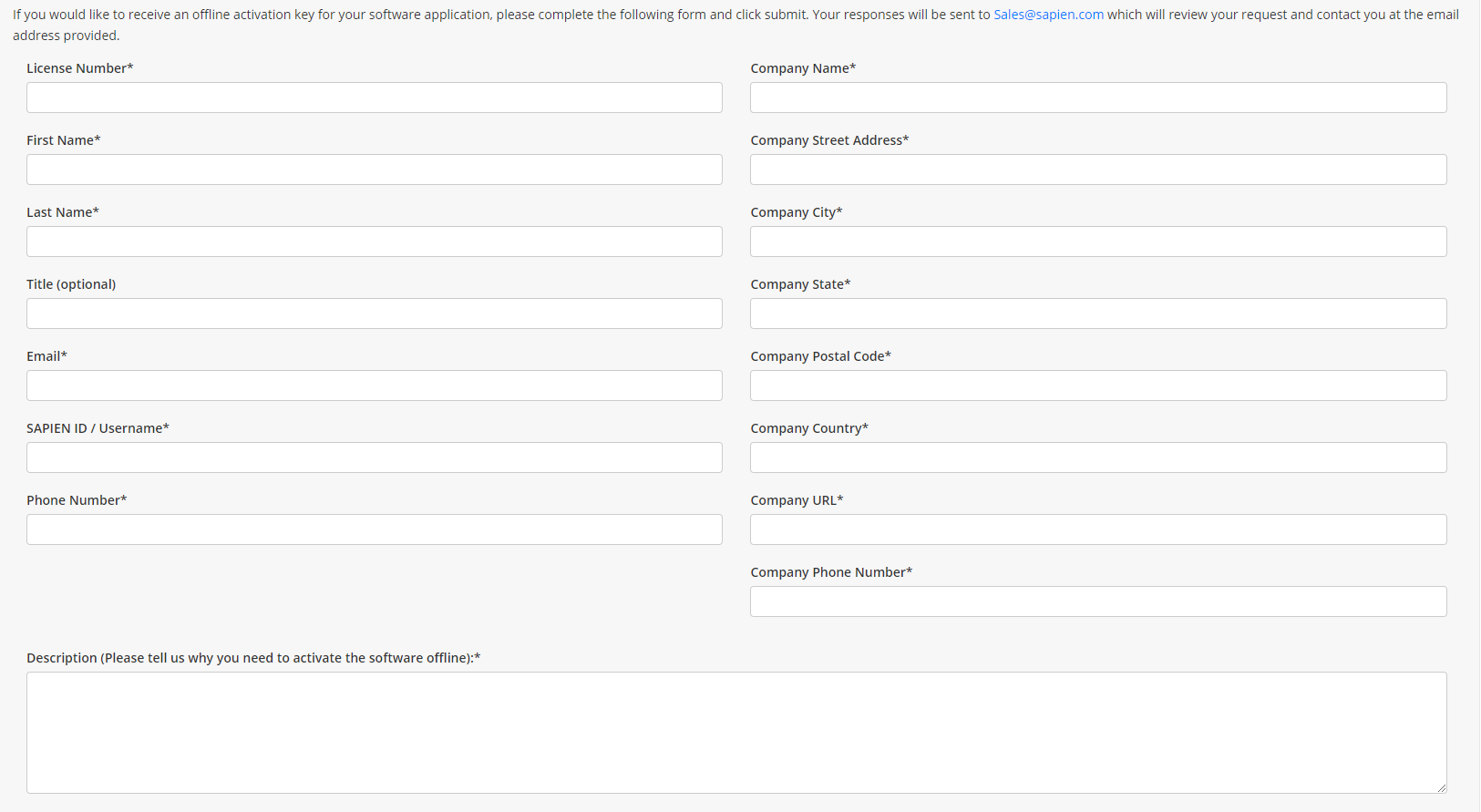 Still have questions? We would be happy to address them, just send us an email directly to This email address is being protected from spambots. You need JavaScript enabled to view it..
Lanae Dale is a Sales Specialist at SAPIEN Technologies, Inc.