Need help? There's a support group for that!
Details

Written by David Corrales
Last Updated: 30 August 2019
Created: 07 May 2019
Hits: 4581
Need help with one of our products or with PowerShell scripting in general? There is a support group for that on our forums!
How to get help and quick!
The easiest way to get to customer support is by using the product's Send Feedback menu: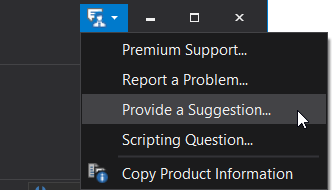 Note: Our support staff responds quickly to forum questions with the exceptions of holidays, weekends and off hours.
Premium Support
If you are a premium support customer you will see the Premium Support link (PowerShell Studio only). The link will take you directly to our Premium Support ticketing system.
Report a Problem
Use this link to report a problem or to ask a product related question. The link will take you directly to the Product Support forums for registered customers.
If you are using a trial version of our products, you will be directed to the Trial Software / Pre-sales Technical Questions forum.
Important: If you are reporting a product issue, first use the Copy Product Information link before posting (see below).
Provide a Suggestion
Customer engagement is very important to us. If you would like to see a feature implemented, please use this link to provide a suggestion. The link will take you to one of these following pages, depending on the product:
Wish List and Feature Requests Forum
Scripting Question
Sometimes we need a little help from our friends in order to solve a problem. The Scripting Question link direct you to our Scripting Support forums where you can ask questions about PowerShell scripting or GUI scripting.
Note: Community experts monitor the scripting forums.
Copy Product Information
This link is important if you plan to report a problem with a product. Clicking the Copy Product Information will copy the product build number and OS information to your clipboard. When you post a new topic on our product forums, paste this information at the top of the message. Support will inevitably ask you for this information if it is not present.