WinForms Control Reference for PowerShell
Details

Written by David Corrales
Last Updated: 14 April 2016
Created: 16 July 2012
Hits: 9665
We are happy to release the "WinForms Control Reference for PowerShell" guide. This guide provides you with a quick reference for the WinForm controls in PowerShell Studio. The document contains a list of all the important properties, methods, and events that you should be familiar with when creating GUIs in PowerShell.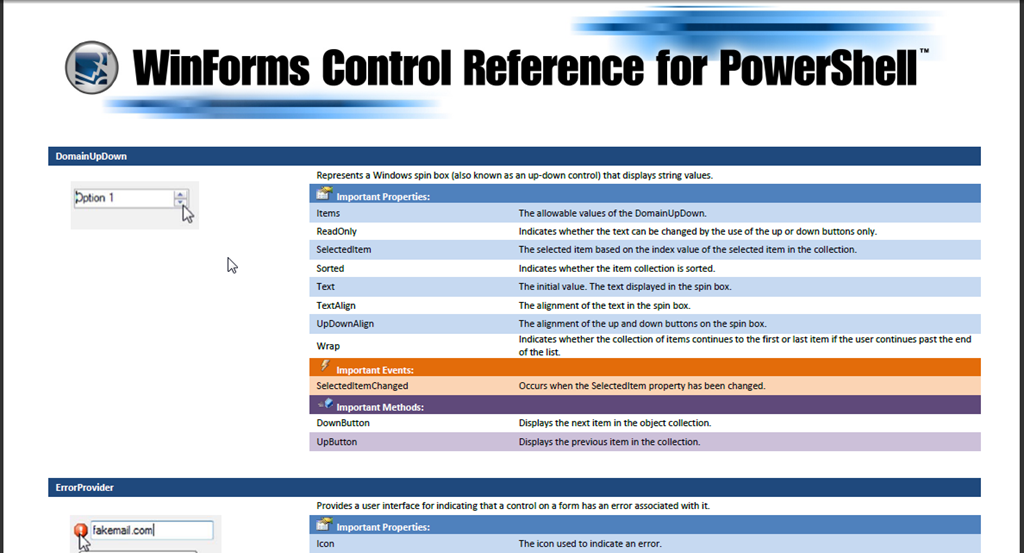 How can I get the reference guide?
There are two ways to access the reference guide:
1. SAPIEN Document Explorer
The guide is included in the SAPIEN Document Explorer (installed with all major product titles). In addition, you can access the guide directly from PowerShell Studio by clicking on the "Control Reference" button located in the Help tab of the Ribbon.

2. Download from our website
You can also download the Reference Guide by clicking here.
Spotlight on Controls
For more in depth information on individual controls, please refer to our Spotlight on Controls series.