Managing Your Single-User Subscription
Details

Written by June Reif
Last Updated: 20 April 2016
Created: 20 April 2016
Hits: 5695





Managing your single-user subscription via your account page is pretty simple. First click on or hover over the My Account menu item and choose Registered Products from the resulting screen. At the top of your accounts product page, you will see your registered subscriptions.
The Basics
The left side of the panel shows you which product you have a subscription for, whether or not you have Premium Support with the subscription, your subscription number, how many activations have been used, and download links to the latest 64- and 32-bit versions.
It also provides links to help you activate your software, view the version history of your product and access the archives of older versions of your product.

If you have Premium Support, you can link directly to the ticketing system for your subscribed software by clicking "Premium Support."

If not, you can easily add it to your subscription by clicking "Add Premium Support."
You can copy your subscription number to the clipboard using the clipboard icon. (Works on most modern browsers.)

Your subscription's activation status is available at a glance.

And your download of the latest 64- and 32-bit versions of the subscribed software are just a click away.

Subscription Information
The upper-right side of the panel holds information about your subscription-when it was registered, when it expires, how many licenses it includes, and a link for unregistering your subscription in order to transfer it to someone else.
Let's delve a little deeper into the expiration date. When your subscription is approaching expiration, you will see a notice telling you as much and offering a link to renew your subscription at a discounted price.

Because we offer a 3-month window AFTER your subscription expires to renew it with a discount, the account products page will let you know if your subscription has expired and you are still within that window.

Once that 3-month window has passed, you will be offered a link to reinstate your subscription along with a brief explanation of our renewal policy.

An expired subscription can be reinstated up to 15 months past expiration.
Additional functionality
Located on the right side of the panel below your subscription information, are two buttons: Productivity Pack and Activation Details.
The Productivity Pack button gives you access to the complimentary SAPIEN Productivity Pack software that comes with each subscription. Clicking it will open a panel in front of your Registered Products. The Productivity Pack panel works in much the same way as your Registered Products page.

If, for any reason, you do not a have a SAPIEN Productivity Pack license key already associated with your subscription, you will be able to generate one from this window.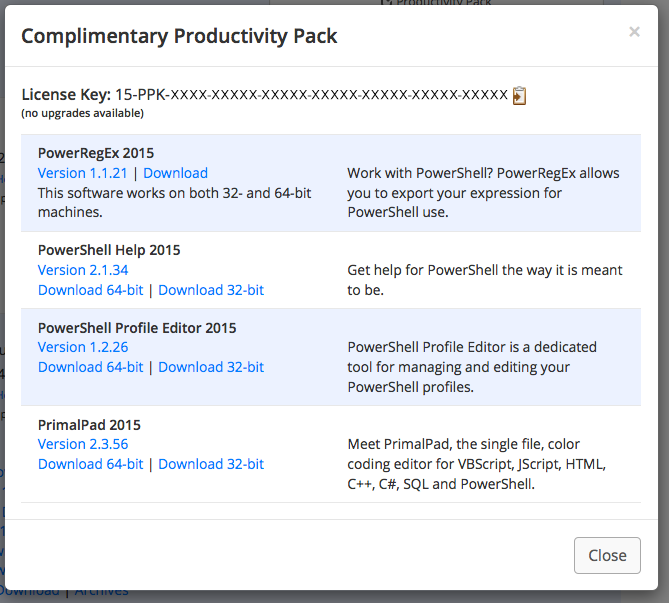 The Activation Details button gives you access to the Activation Details panel which will appear in the same manner as the Productivity Pack panel. For an in-depth explanation of the Activation Details Window, please see the What happens if my computer crashes and I am unable to deactivate my activation? section of our Quick Guide to Software Activation article.
SAPIEN Software Suite
If you have the SAPIEN Software Suite, you will note a slight variation of the layout of some of these items, though the functionality is the same.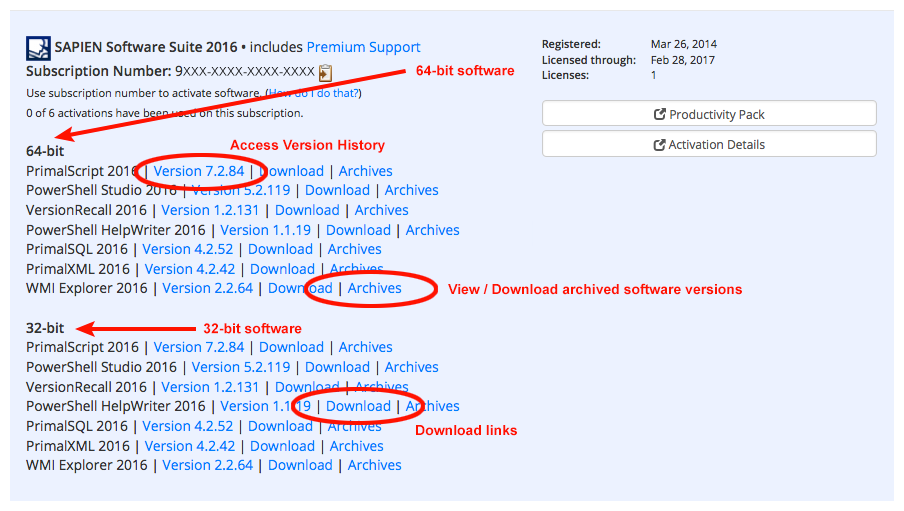 We hope you find the subscription section of your account page easy to use. If you have comments or suggestions, please feel free to post them in our Feedback forum.